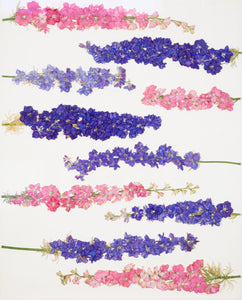 Original is 17"x21"
Real preserved Larkspur stalk. Three color varieties. 
Larkspur is just one of those flowers that will never not be beautiful. They have fun, bold color, they press great, and are a beautiful addition to a fresh flower arrangement. I just really love the shape and the fullness that Larkspur has. 
For this piece, I wanted a simple frame that was only for Larkspur. I love this flower and always will, so it deserved its own place on my gallery wall.